What is Split Testing?
Sometimes you have an idea for an ad and someone else within the organisation has a different one.  Or you have seen two different ads that both fit your business.  How do you decide which is best?  Or which will produce the best results?  Sometimes the best way to do this is to use split testing.
A/B testing
Split testing, also known as A/B testing is a method by which you discover which ad or sections of an ad improves ad performance.  It allows you to try out different ad formats or ad sets on your audience and discover which one gets the best results.
For example, you may want to advertise a new e-book that the business has produced.  You create two adverts and test them on the same audience – one with a creative showing the title of the book on plain background whilst the other shows a book image.  By studying the results of the two different ads, you can see which one gave the best results to help you going forward.
Nor does A/B testing need be just one or the other.  In fact, you can have as many ads running as you want and change even the smallest thing on each ad to monitor performance.  You could have the same picture with three different headlines or you could target the advert at five different interest groups to see who responded best.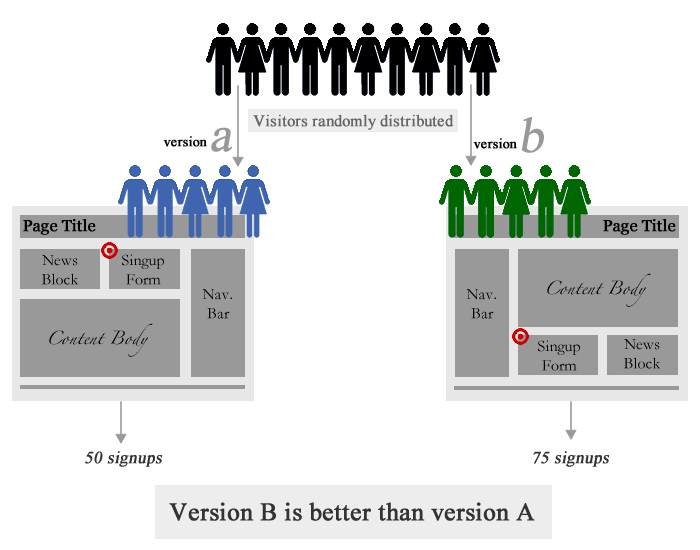 Content options
Some of the most common content options include changing the title, image, text or link description, colour and shape of call for action (CTA) button the call to action wording itself and more.  Even the placement of the ad (ie whether newsfeed ad or right column) can be tested to check to check for performance..
You can also test the content based around the parameters your targeting you will use – country, city, age, interests, behaviours etc , even advanced demographics such as household income or family composition can also be tested.  Remember, you don't need to know these things about your audience, as they are unlikely to disclose them, but Facebook algorithms will do the work for you.
Statistical significance
While split testing can be a great way to try out different ad styles and even settle a debate in the office, you also need to start out with an idea of how to define success.  Using the metrics within the Ads Manager will be key to understanding how an advert performed and even why it performed better than another version.
One of the easiest statistics to use to measure an ad's success is the cost per conversion.  It's simple and has an immediate impact on the business, this is a great way to see which ad cost more per click.  The higher the figure, the less successful the ad.
You can also track the revenues generated by each conversion and then work out the return on investment with the cost of the ad and the income generated.  This is a bit more complicated and won't be ideal for some businesses as the ROI might not be a simple figure.  Whatever you choose to monitor the success of the ad, continue to use that stat in future campaigns to continue to get a clear picture of your ad's success.
Click here to book now for the 'Selling With Facebook Ads' course at the DISCOUNTED launch price.
Free Facebook Ad Campaigns Basics 'Taster' course
Want to generate more leads, turn more browsers in buyers, increase donations or passionate volunteers?
Then this course is for you. Over a series of four emails you will learn how your business or charity can use Facebook Ad Campaigns to:
Improve its fundraising effort, turn more fans to paying customers
Increase community engagement or brand awareness and online prescence
Recruit committed volunteers or increase lead generation at lower marketing costs
This FREE taster email course consists of these topics:
Click here to book now for the 'Selling With Facebook Ads' course at the DISCOUNTED launch price.